Art 'n Motion is the 18,000 square foot host building for The Assembly Room events. Located just within the historic St. Augustine city entrance, this two-story brick building is an early 1900s industrial-inspired masterpiece with modern amenities. Showcasing brick walls, handcrafted woodwork and exposed ceilings, the inside of this newly constructed building is raw yet polished.
The Assembly Room at Art 'n Motion has 5 beautiful spaces to choose from for your event. Keeping in mind that every event is unique, we have multiple packages to choose from. These packages range from one room for a more intimate event or mix and match several rooms. Included in almost every package, Art 'n Motion also offers access to our caterers' kitchen as well as a large amount of convenient private parking making it a rarity in downtown St. Augustine.
---
The Assembly Room Event Spaces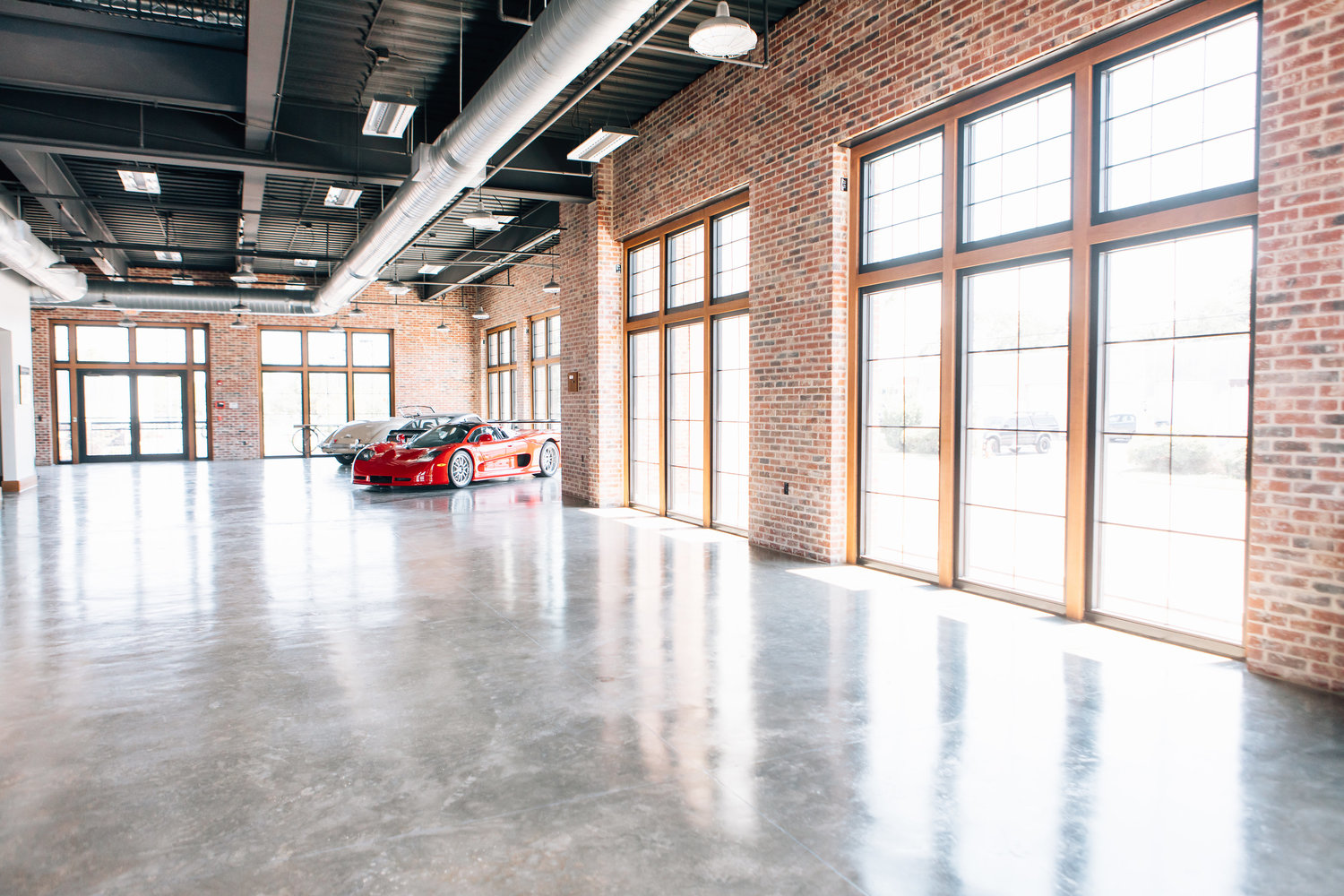 The Showroom
The first level of Art 'n Motion consists of The Showroom. This large, open room shows off beautiful brick walls, shiny stained concrete floors and is surrounded by floor-to-ceiling windows. This room also features a massive barn door backdrop and convenient restrooms. It is the perfect clean slate to make the vision for your event come to life.
Highlights
Our largest event room.
Massive barn-door backdrop.
Convenient Restrooms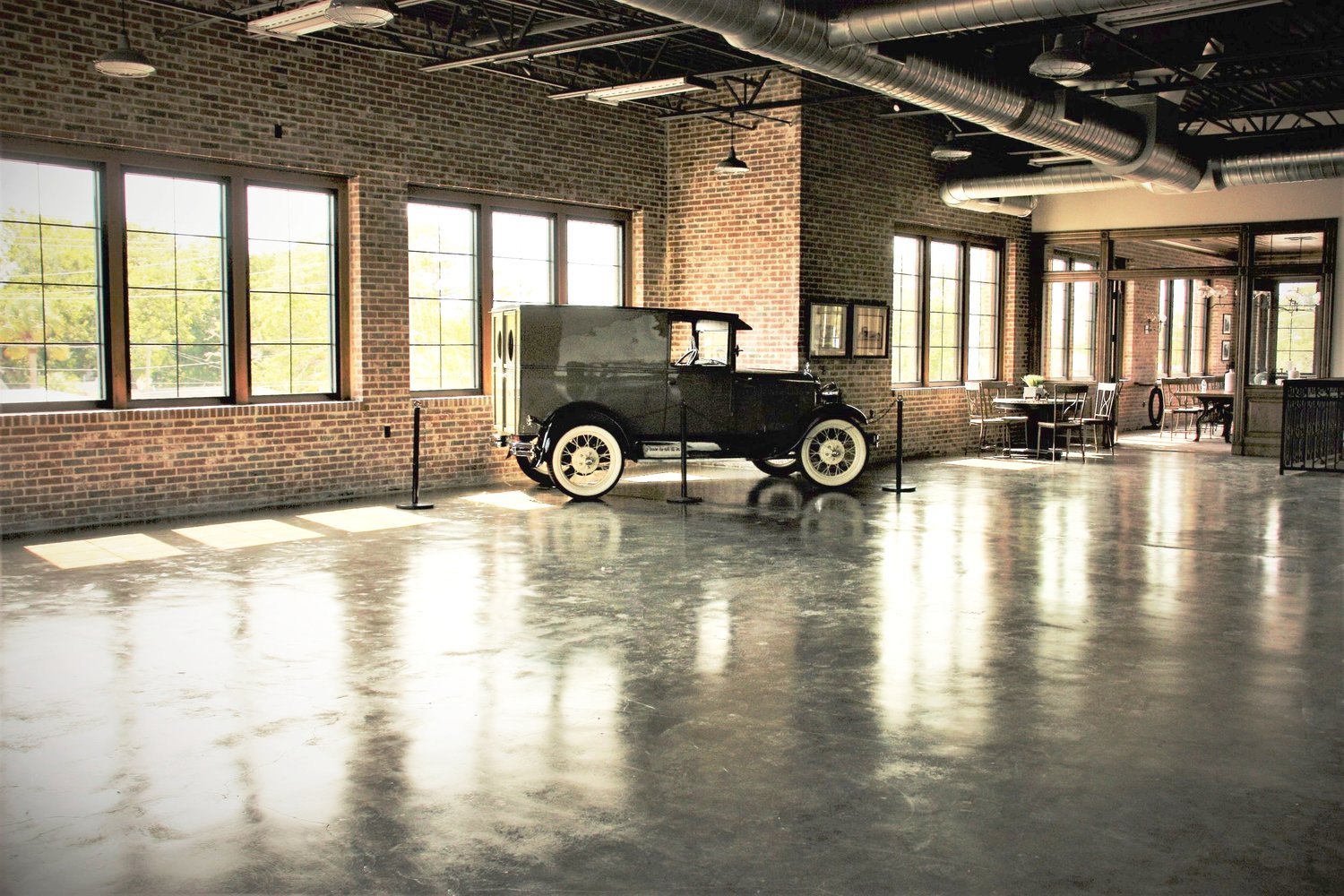 The Classic
The second floor of Art 'n Motion opens into The Classic. This room is the similar industrial style feel as the Showroom on a smaller scale. Featuring neutral tones, brick walls, massive windows and iron railings looking onto the Showroom below, this is a perfect space for a more intimate event. This room also has its own convenient restroom access and elevator access.
Highlights
Balcony setting looking onto The Showroom
Convenient Restrooms and Water Fountains
Elevator Access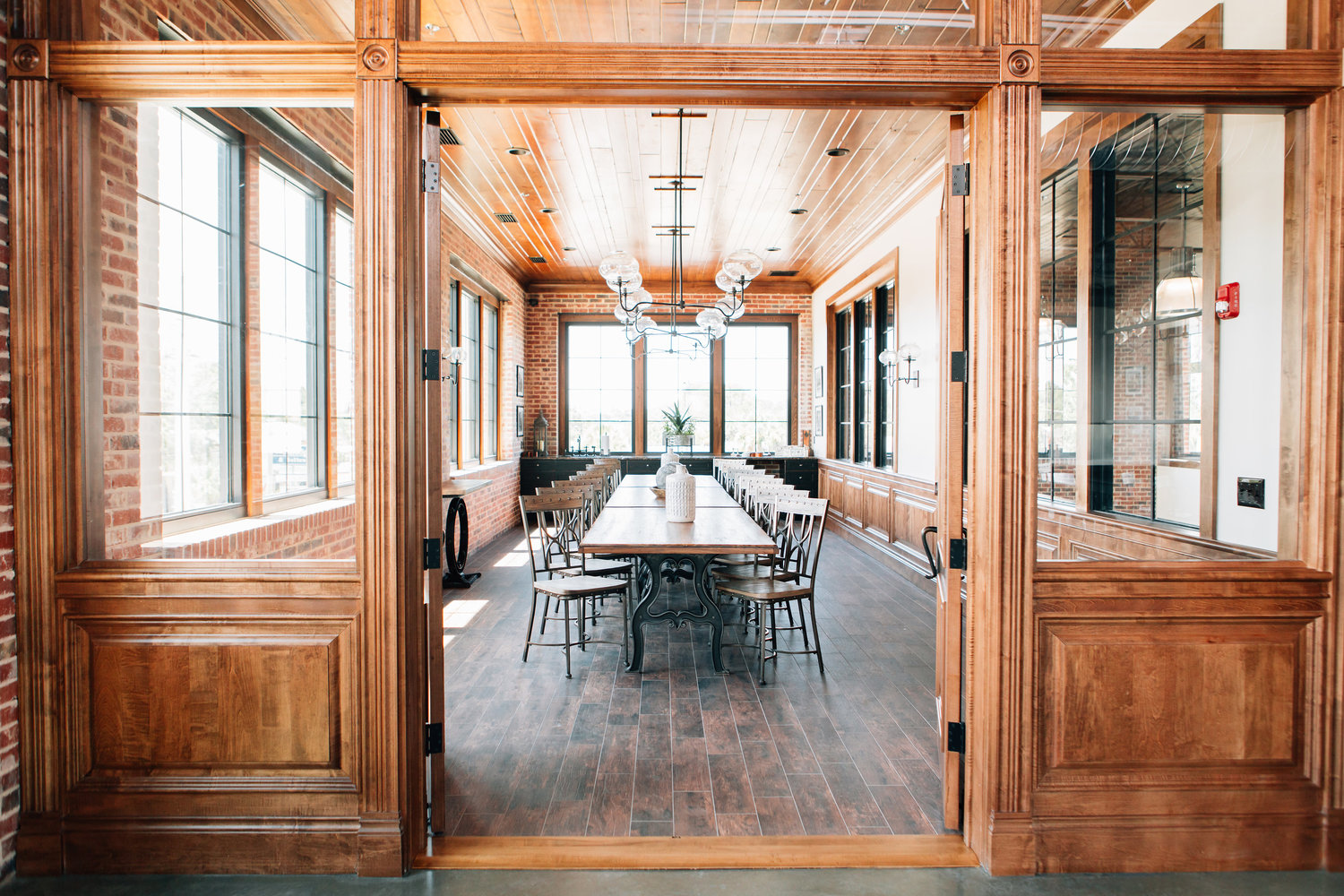 Elizabeth Room
Adjoining The Classic is the Elizabeth Room. After opening the beautiful French doors, this room showcases the perfect mix of ornate woodwork and brick, a bar work-space and unique industrial lighting, making The Elizabeth Room a guest favorite. This room has large windows looking out onto the city on two sides and seemingly floating above The Showroom on the other. Named after the family's first antique car "Elizabeth," who will often be spotted at Art 'n Motion, this special room is the perfect size for business meetings or larger events' buffet lines.
Highlights
Industrial Style Tables & Chairs.
A mini bar including a mini-fridge, sink & granite countertops.
Unique "flickering" lighting.
Appropriate for around 25 people.
The Assembly Line
The Assembly Line Room is located in the back half of the second floor of Art 'n Motion. This rectangular space offers a unique industrial feel with fogged garage doors, an oversized sliding barn door and metal chandeliers. The room proceeds onto "The Lift Deck" terrace offering both indoor and outdoor access for your event making it perfect for cocktail hour for weddings, dancing for an upstairs reception or a small event on its own.
Highlights
Terrace Access.
Fogged garage door backdrops
Oversized sliding barn door backdrop opening views into the Classic
Convenient to our caterers' kitchen and bridal suite.
Industrial inspired chandeliers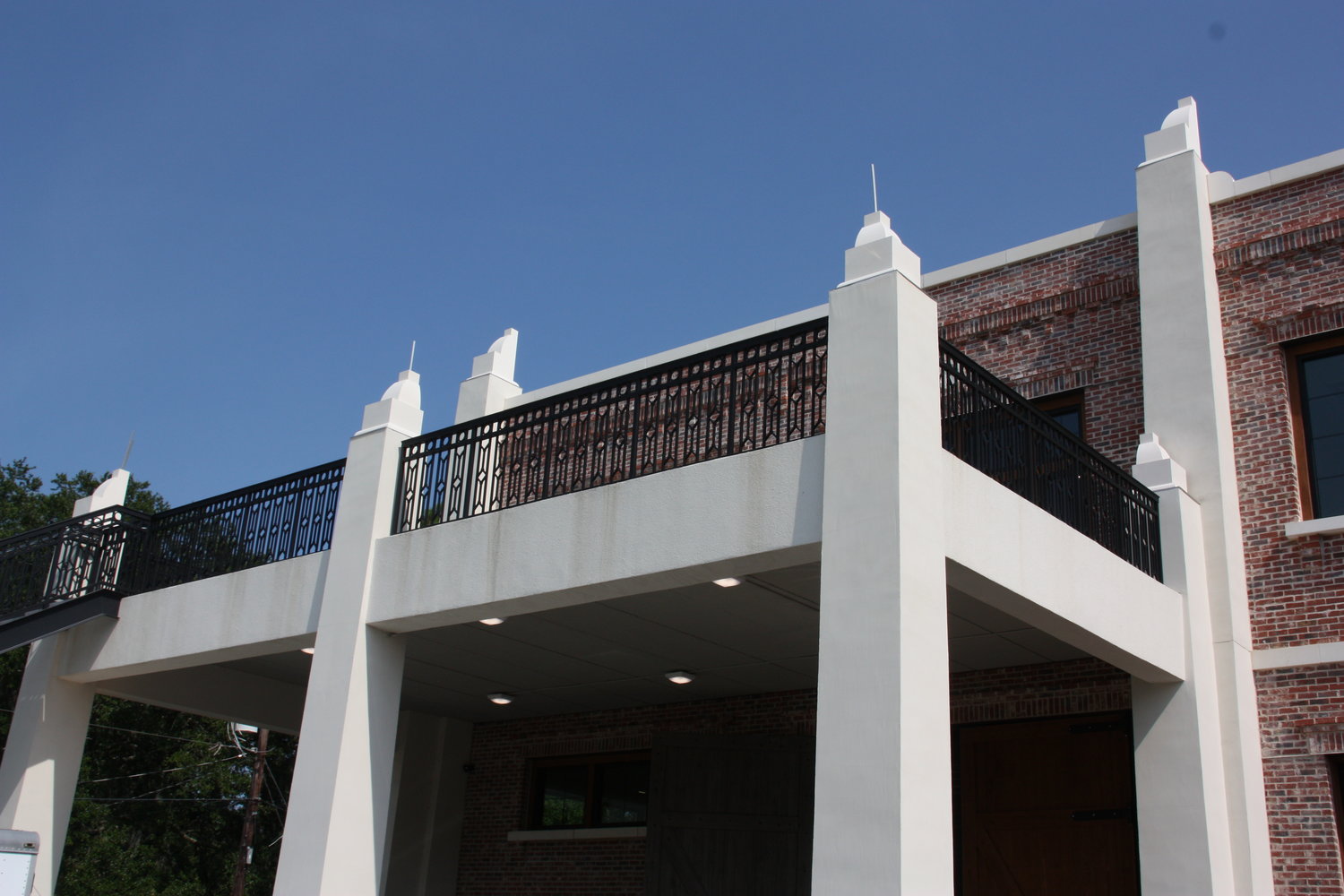 The Lift Deck
The Lift Deck is our outdoor terrace just beyond The Assembly Line room. Looking over San Marco Street, this is a large concrete deck with black iron railings and lighting making it an outdoor choice for cocktail hour or other small events.
Highlights
Assembly Line room access.
Lighting.
Clean slate for highboy tables or lounge seating.
---
Amenities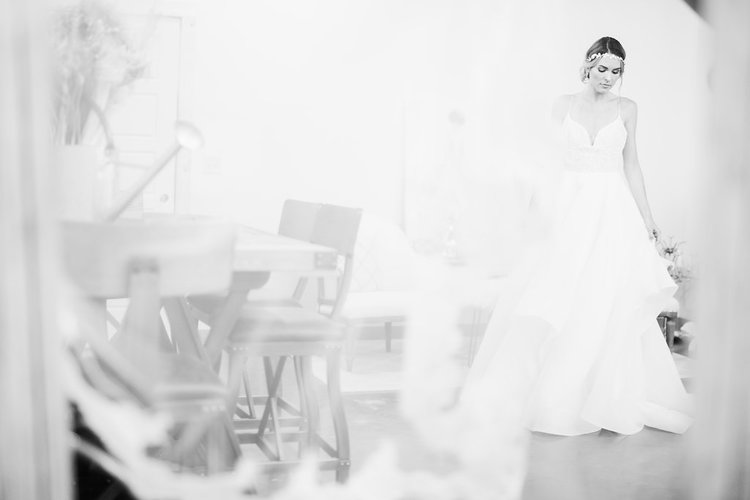 The Bridal Suite
Our stunning bridal suite provides plenty of lounge seating and salon-style counter space with bar stools for hair and make-up. This room also features huge windows providing natural light and is topped off with a twinkling chandelier and "chandelier" lamp for that feminine touch. Located in the back half of the second floor, it has a "behind the scenes" feel giving the bride and bridal party some privacy and peace while preparing for the special day.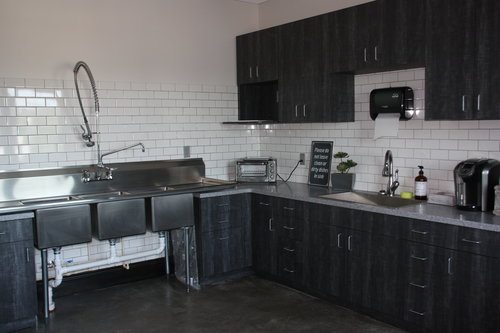 The Caterers' Kitchen
Our caterers' kitchen includes work stations, a refrigerator, large sinks and a microwave. This kitchen is roomy, clean and ready for events! Located in the back half of the second floor, it is hidden from the event spaces but sits close to the stairs, hallway and elevator giving it convenient access to any venue room.
---
Highlight Gallery
Courtesy of Sarahdipity Photos
---
Where is The Assembly Room located?
Art 'n Motion fine automobile gallery is the host building for The Assembly Room events. This is located at 283 San Marco Avenue, St. Augustine FL 32084.
Where do I park?
This venue provides plenty of parking in the neighboring lot on the southside of the building. Please look for parking signs or the valet parking booth just off Ct. Louise for the event you are attending! Handicap Parking is in the northside lot connected to the building off of Ct. Theophelia. Please do not park in neighboring businesses parking lots or in front of the building. Art 'n Motion has a convenient entrance on each side.
Is this venue handicap accessible?
Yes! Handicap Parking is in the northside lot connected to the building off Ct. Theophelia as well as the wheel-chair accessible entrance. This building is two stories and has an elevator and large restrooms making the entire facility handicap accessible.
Are kids welcome?
Check with your event host or invitation etiquette to see if children are welcome at the event you are attending. With that being said, although we love the little ones, this venue is a rare and classic car gallery with cars on display throughout the building. If possible, take this event opportunity to let your hair down and have a date night!
Is the car gallery open to the public?
Art 'n Motion has rare and classic cars on display at all times and remains closed to the public for the safety of the cars as well as for private events. However, stop in on a Monday or make an appointment with justin@artnmotioncars.com to have a tour of the vehicles! Most of these cars are for sale.
Please do not touch the cars at the event. We try to keep these cars in pristine condition as they can never be replaced. There is video surveillance of them at all times. However, feel free to take photos of them!
Are there accommodations close by?
There are an abundance of hotels and B&B's close by in St. Augustine! The closest hotels to the venue are The Southern Oaks Inn (right across the street), Jaybirds, Travel Lodge and Double Tree by Hilton all located on San Marco Avenue.
Additional Information
Smoking is prohibited in indoor workplaces in the State of Florida. Please use the designated smoking area at the front of the building. Please do not smoke right outside either entrance as gallery cars may be placed close by.
---
Get Social